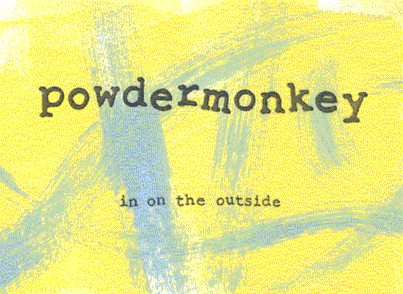 SORRY!!!!!
Due to severe time managment problems the POWDERMONKEY home page has had to be taken off-line for a short while. This is so that we can keep it up to date and (we hope) interesting enough to coax you back time and again, don't worry however as we hope to have a new and MUCH improved site up within a couple of weeks.
In the meantime try to get a hold of a copy of Internet Explorer 5 as we hope to have a few nifty little tricks to show you once we get up and running.
Until then you are just going to have to wait, although the band can still be contacted at the usual places (see below) and the e.p., In On The Outside is available in all good record stores (or by posting four pounds (sterling) to the address below). So you shouldn't get too lonely.
E-Mail: powdermonkey@mindless.com
Snail-Mail: Anthill Music
Flat 3l

144 Woodlands Rd

Glasgow, G3 6LF
(make all cheques payable to "Anthill Music")